GLANCDA Supports Glendale Youth Alliance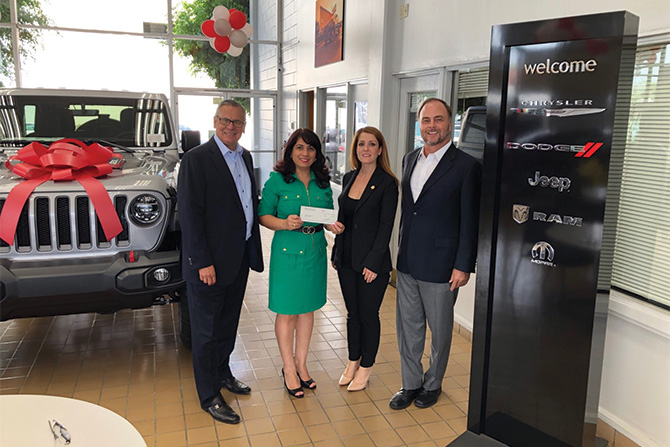 The Glendale Youth Alliance (GYA) sincerely appreciates President David Ellis (Glendale Dodge, Chrysler, Jeep, Ram) and the Greater Los Angeles New Car Dealers Association (GLANCDA) for their continuous support of our programs and the generous donation of $15,000 during these challenging times. GYA is a nonprofit organization that provides comprehensive employment programs for youth ages 14-24. Since 1993, GYA has made a meaningful impact on the lives of over 10,500 youth by preparing them for the future workforce and breaking the cycles of poverty. GYA has over 27 years of experience in providing comprehensive services and pathways to employment to special populations of youth, including at-risk, foster, disabled, parenting, probation and homeless youth. These groups generally have a harder time entering the workforce. GYA provides not only employment opportunities, but also comprehensive services to meet their personal needs. By providing the skills and experience needed to remain above poverty levels, we are investing in a healthy and prosperous future for the youth and our community. Through participation in our programs, many youths have been hired on permanent bases at various departments of the City of Glendale, numerous retail outlets and many other professional organizations. All contributions to our nonprofit organization go into the mission of helping youth in need to reach their highest potential.

Thank you to GLANCDA for believing in GYA and for investing in the youth of our community. It is the help of organizations such as yours that enables us to make an impact on the lives of youth in need.

With Gratitude,
From Everyone at Glendale Youth
Alliance (GYA)
GLANCDA Board Member Cheri Fleming (Valencia Acura), Presents Check to Automotive Tech Program at College of the Canyons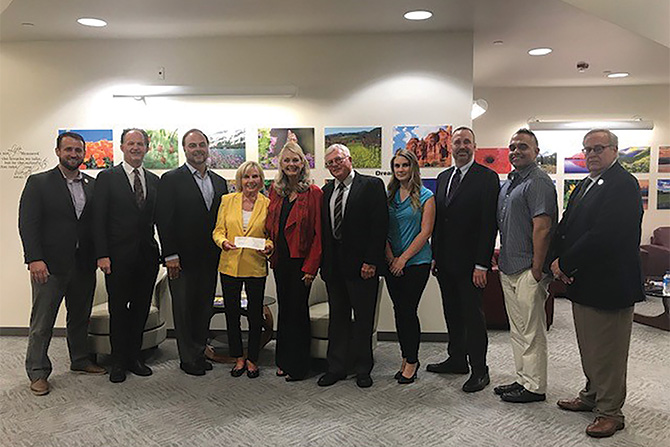 On behalf of the School of Applied Technology and the Automotive Tech Program at College of the Canyons, I want to personally thank Cheri Fleming, (Valencia Acura) and the Greater Los Angeles New Car Dealers Association for making this generous donation of $20,000.

We're proud of the work of our Automotive Technology program and the impact it has on our students and the broader business community, including our local auto dealerships. This program provides a robust offering of certificate and degree programs for our students, ranging from one semester to two years in length. Most importantly, our Automotive Technology students are equipped with hands-on experience and relevant skills, empowering them to support themselves and their families. Through this generous contribution, we will be able to help fund new equipment and training for hybrid vehicles — a growing and important segment of our program's curriculum.

Thank you again for investing in the lives and futures of our students at the College of the Canyons. Your gift will help students achieve their dreams and reach their full potential through education.

Sincerely,
James P. Kneblik, Jr., Director of Development
College of the Canyons Foundation
Pasadena City College Automotive Program Awarded $15,000 Grant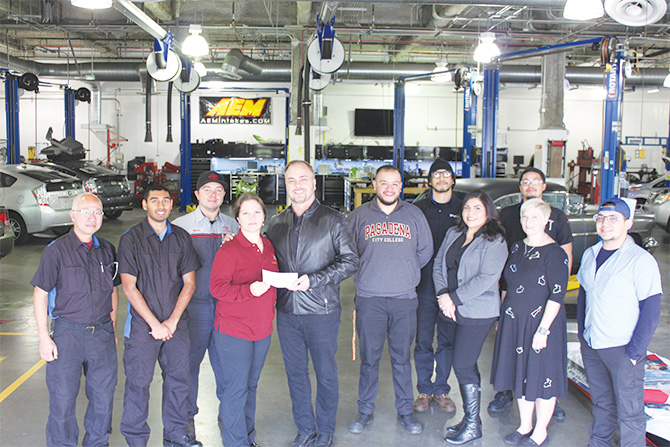 The Greater Los Angeles New Car Dealers Association (GLANCDA) has been supporting the Automotive Program at Pasadena City College since 2019, and recently announced a renewed commitment with a grant of $15,000. GLANCDA board members Peter Hoffman (Sierra Automotive Group, Monrovia), and Pete Smith (Bob Smith Toyota, La Crescenta) were instrumental in getting approval of this award.

The Automotive Technology Program has been providing quality education to students pursuing careers in the automotive industry for decades and was most recently recognized for economic results — receiving a Bronze Star in the Strong Workforce Star Program. The star program measures three goals: a substantial increase in earnings, attainment of a living wage relevant to regional conditions, and work in a field closely matched to the student's field of study. Automotive Technicians graduating from the PCC program have seen an 83% increase in earnings.

To continue graduating highly qualified automotive technicians capable of serving a full range of vehicles, the automotive department must consistently upgrade equipment, replace tools, and build a substantial outreach program to attract new students. Support from the new car dealers makes all this possible.

The Pasadena City College Automotive Department and the PCC Foundation appreciate its partnership with all the Los Angeles area new car dealers. The impact on PCC and our students continues to be profound, and our automotive program would not be the same without their support.

Kind regards,
Dolores I. Ybarra | Development Manager
Pasadena City College Foundation
Glendale Dodge, Chrysler, Jeep (David Ellis) and the Greater Los Angeles New Car Dealers Association (GLANCDA) Support Villa Esperanza Services
Providing services for children and adults with intellectual/developmental disabilities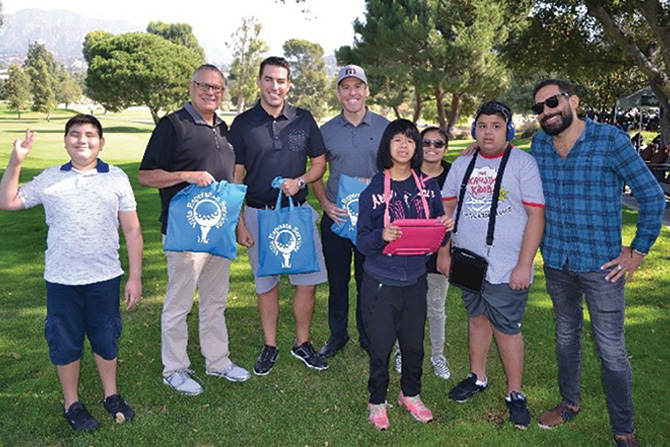 Villa Esperanza Services was awarded a $5,000 donation in support of their programs for children, adults and seniors with autism and other intellectual and developmental disabilities. "We are extremely grateful for the continued investment in our children and adults," shares Kelly White, Villa's CEO.

"GLANCDA's support helps change lives for individuals with special needs. Now more than ever, this support is needed for families. We are proud to contribute to Villa," said David Ellis, GLANCDA board member and owner of Glendale Dodge Chrysler Jeep.
Villa serves individuals of all ages with more than 30 different diagnoses. The wide variety of programs and services helps over 750 individuals and their families each year in Los Angeles and Ventura counties. Since 1961, Villa has been a leader in advocating and advancing services for individuals with special needs. Villa excels in offering progressive and innovative approaches and solutions. The ability to forecast and meet the changing needs of their clients has established Villa as a unique service provider, offering individualized programs and a continuum of care throughout a lifetime.
The Greater Los Angeles New Car Dealers Association