Featured above, left to right: Sara McKinney, Michael Hernandez, Lisa Hernandez, Robb Hernandez, Layne Barajas and Jonathan Margullis
Mike Hernandez (Mike Sr.) established Camino Real Chevrolet March 16, 1976. He was involved in the day-to-day operations until his passing in 2019 at 83.
Mike Sr. believed in giving back to the community. He felt that when you have the ability and capacity to help, it becomes a responsibility to do so. Since the 1950s, Mike Sr. was involved in various youth groups and foundations, including The Boy Scouts of America, Little League Baseball and various police associations. He also worked with underprivileged children throughout East Los Angeles, Major League Baseball players who needed help adjusting to life after baseball, and mentored and advised Oscar De La Hoya early in his career.
Many dealerships flounder after the founder passes, but Mike Sr. made sure he taught his children the importance of family. He always said, "I won't be here forever. Don't cry for me. Get back to work."
His highest priority was that Camino Real was always considered a family business. It wasn't about the accomplishments of individuals but about the dealership and what it provided for the family, employees and, most importantly, the community.
Mike Sr. left a legacy in a blended family that included his five children. Michael, the oldest, has worked at the dealership for 47 years and serves as the vice president and general manager. Lisa is the chief financial officer, controller and HR director. She has worked at Camino Real for 32 years. Robb is the dealer operator and has been involved full-time since 2014. Mike Sr.'s other children, Tom and Liz, are not involved in the dealership's day-today operations; however, Liz does assist with dealership marketing and social media. In addition, JJ Margullis, Lisa's son, is the used car manager and Mikey Hernandez, one of Michael's sons, is an internet sales manager.
The Hernandez family and Camino Real are now focusing on the future, planning and preparing the next generation. Robb is the next generation. Mike Sr.'s desire was for Michael and Lisa, with their knowledge and experience, to prepare Robb for flying solo.
Robb has a bachelor's degree from CSU-Long Beach and an MBA through GM-sponsored DeVos Graduate School at Northwood University. He is a board member of the California New Car Dealers Association and the director of the Greater Los Angeles New Car Dealers Association. He also serves as a member of the Chevrolet National Dealer Council; that responsibility is a big commitment of time and focus. Robb says, "My job on these various councils is to help and protect dealers and make me a better dealer. I know I can only take on these opportunities because of my family's support. If I didn't have that, I would have to be at the dealership nonstop. Our management team is strong, and there's no problem leaving for a few days. When I'm gone, I am learning from other dealers, which helps me be more innovative, and I am a voice for all dealers to the manufacturers. You can't put a price on what I'm learning from everyone."
Camino Real has won many awards throughout the years, including Dealer of the Year for Chevrolet in 2006 and from 2017 to 2021. The top 75 dealers are given this award from about 3,000 dealerships nationally. The dealership has also been awarded the Mark of Excellence award at least a dozen times. Robb credits these awards to the dealership family and their commitment to Camino Real. 
The auto industry is changing, and Robb sees the shift toward EVs and the technician shortage as important issues. He appreciates how General Motors Corp. is helping dealers prepare to move into the EV space. Although electricity providers need to work on their part, so do employers such as Camino Real Chevrolet. They can address labor shortages by reaching out to schools to solve labor issues in sales and service. Robb points out that many people discourage students from trade schools, which should be an avenue for those who don't want to go to four-year colleges and universities because of cost or just no desire to further their education. Graduates from automotive service technician schools can make a great living working at a dealership and would have little student debt. "Dealers need to put their best foot forward with high schools and colleges. Nurture and empower students and cut some checks. We need more trade school graduates and have programs to pay for school. That's something my dad always did," Robb pointed out.
Camino Real Chevrolet is a single-point dealership, and Robb sees that as an advantage. "The single-point focus has to be taking care of the clientele," he said. "People are not just another number. If you take care of them like family, there is room to grow. Multipoint doesn't mean best of the best. Many winners are single points. Being a single point doesn't mean you will fail. You just have to keep a better pulse on the business and keep expanding your footprint in the community."
"I have aspirations to expand, but my focus is here first," says Robb. "This is my passion. I have my family here, and we don't ever have a bad day. We only have bumps in the road. My father used to say, 'Have faith, be strong and be your own hero.' If you have the fire and work ethic from within, you really can be your hero."
Mike Sr. knew the importance of family and how to leave a legacy that continues to succeed beyond what he started over a half-century ago.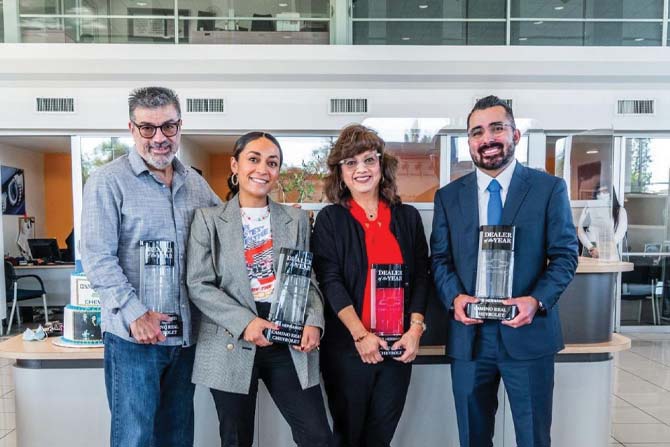 Left to Right: Mike Hernandez Jr.,
Lisbeth Hernandez, Lisa Hernandez
and Robb Hernandez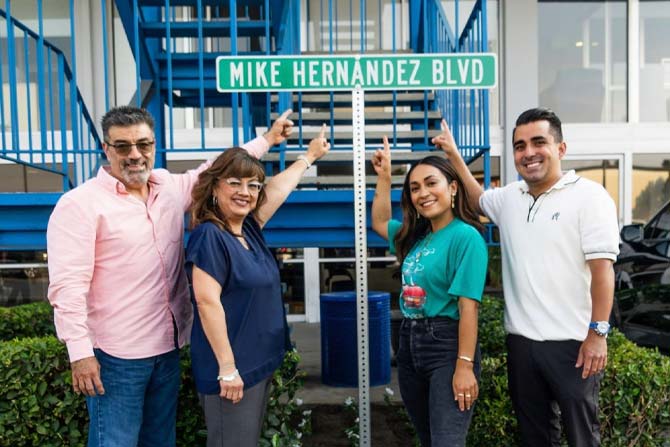 Left to Right: Mike Hernandez Jr., Lisa
Hernandez, Lizbeth Hernandez, Robb Hernandez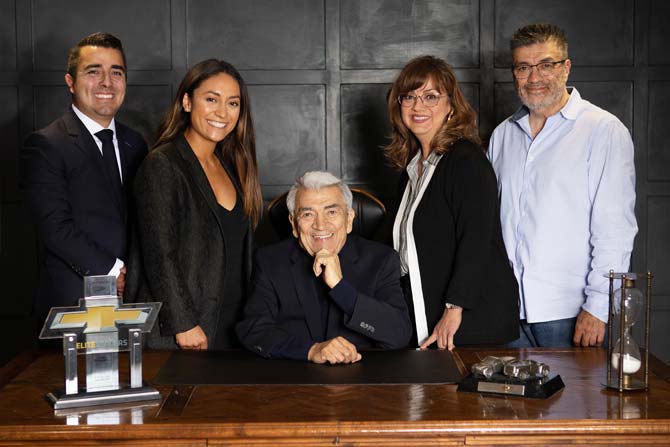 Left to Right: Tom Hernandez, Lizbeth Hernandez, Mike Hernandez Sr.,
Lisa Hernandez, and Mike Hernandez Jr.